Last week, we introduced you to the connection between the Romeisers and the Belleville Public Library. Missed the first post? Check it out here!

And here… is the rest of the story.
At the end of Part I, you learned about how monies from leftover Romeiser Company stock had been donated to the library by Peter's children. It was the first public donation made to the library and (in today's terms) totaled upwards of $20,000.
On the 2nd floor of the library hangs a portrait of Peter. There is a small mark in the corner designating the photographer (Strauss of St. Louis) and the year, 1917– the year after his death. The library was constructed and dedicated in 1916 and the donation from his children came shortly thereafter. It only makes sense that this print was made specifically to be donated to the library along with the endowment funds. It is the only actual photograph of him we know to exist… everything else is either a drawing or a newspaper printing.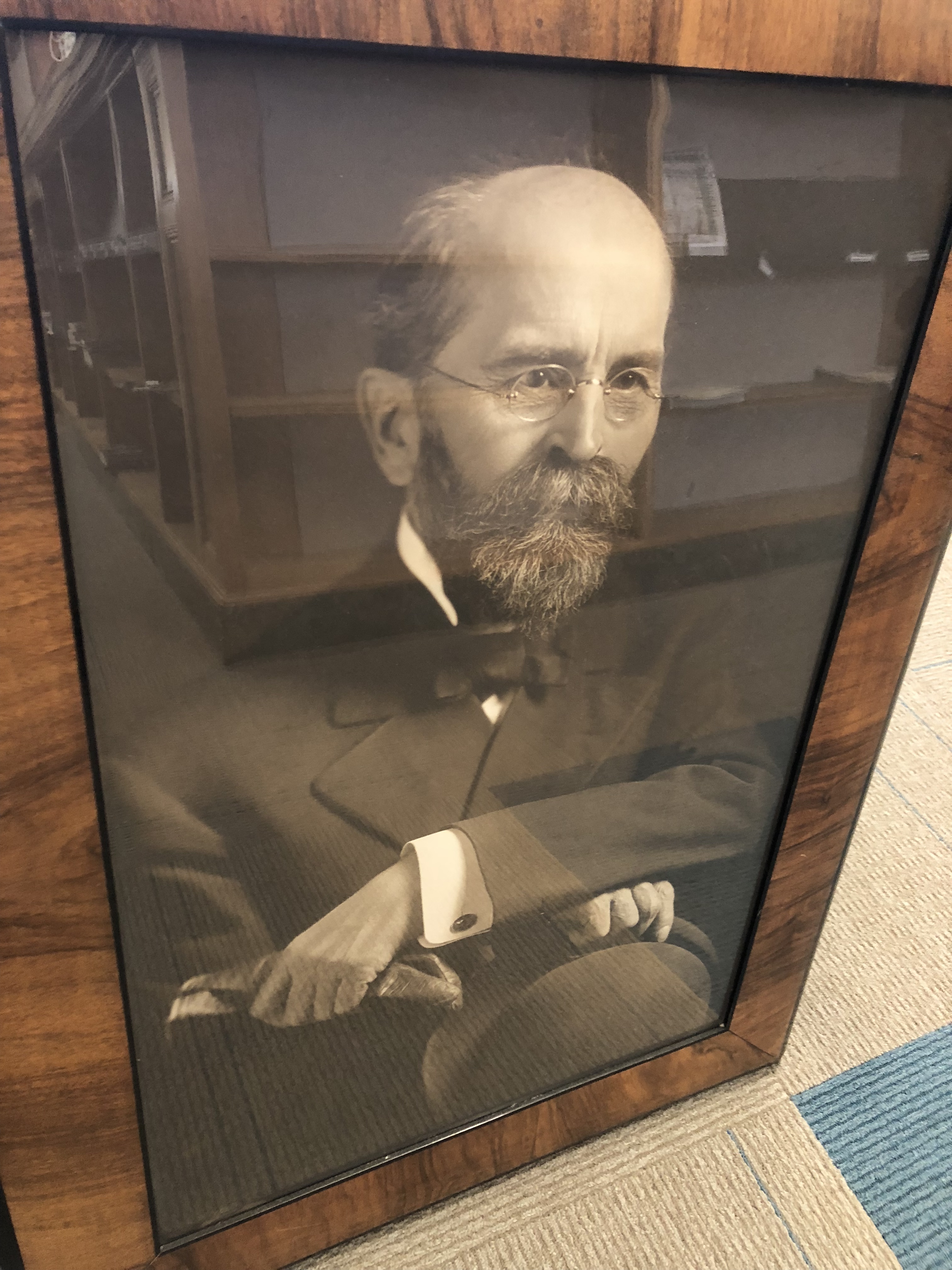 The library is filled with photos depicting prominent people and events in Belleville's history. After spending so much time there, Mr. Brick and Maple and I just all of a sudden realized that of ALL the photographs hanging, Peter's was the only one without an information marker. All the others have little placquards explaining their significance.
Well, if you know anything at all about me, you know that just didn't sit well. So, I reached out to the library director to see if they would allow us to donate a plaque with a description of Peter and why he's so important. We were thrilled when Mr. Leander Spearman, Director of the library, agreed!
As it turns out, there was no plaque next to Peter's photo because there never HAD been one. Mr. Romeiser's significance, his story, his family's involvement in the development of the library, had all been lost to time. Mr. Spearman went on to explain that the portrait– Peter's portrait– has remained somewhat of a mystery to the entire staff.
Today we were able to deliver the plaque to the library and have this small part of the Romeiser's story saved for generations to come. We were also able to submit a blurb for the library's new website and newsletter and have been asked to compile an informal book to add to the library archives for posterity.
It's these kinds of passion projects that I absolutely LIVE FOR. I spend everyday excited that we can contribute in this way, that we have a small part in making sure no one forgets.
Next time you're at the library, pop up to the second floor and say hey to Peter. You'll know it's him by his smile lines and the kindness in his eyes.

Until next time,
The Brick and Maple Family