The Legend of the Romeisers: Part 2
Last week we introduced you to Roland Romeiser and his untimely, heartbreaking death at the age of 17 in 1906. Didn't see it? Click here to get caught up first!
As we mentioned, Roland was absolutely beloved by his friends, the entire town, and all family members. Particularly by his sister Petranella.
Petranella (also called Petra) had been away at the University of Illinois: Urbana-Champaign in the weeks before her father's birthday. She had recently come back home to rest and take a break from her studies. She was a naturally depressive person and having adored Roland, she was exceedingly mournful when he died so suddenly. So much so that two days after his death- the day before Roland's funeral- Petra decided to take her own life by leaping from the third floor window.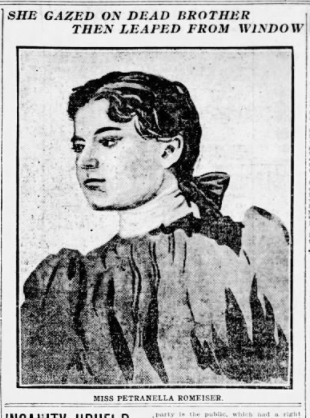 After HOURS of extensive research in archives and sifting through digitized newspapers from the Library of Congress website, Mr. Brick and Maple and I finally discovered a detailed account of what exactly happened.

Due to the nature of her disposition, it was already feared she would try to harm herself. The St. Louis Post Dispatch wrote that, "It was feared that her despondency would cause her to try and harm herself and a close watch was kept on her." During the hours prior, Petra had routinely said that she wished she had been the one that died in his place. Her older sister, Emma, took it upon herself to not leave her side. Petra tried to 'shake' Emma, to get her to stop following her around. However, Emma barely even slept for fear of what Petra would do… even admitting to reporters that she would pretend to sleep just so she could keep watch over her sister.
To try and offer a distraction on the afternoon before Roland's funeral, the sisters accepted a dinner invitation from a neighbor across the street. During their conversation, Petra excused herself, stating that she needed to run home for a second because she wanted to fetch the handkerchief she had left in her room. She arose, and left.
I can almost see the events playing out in my head… and they always happen in slow motion. Perhaps that's how it was for Emma, too. It took a moment for Emma to register what Petra had said… for Petra had already ran from the room. As the puzzle pieces fell into place, Emma chased after her. Petra ran as fast as she could across the street, into the house and up the staircase. Emma was close on her heels as she fled up to her bedroom on the third floor and, presumably to save time, didn't even bother opening a window. She simply jumped through the double window in her room… Emma was close enough to her sister to grab onto her foot, but could not maintain her grip. Petra plunged around 50 feet to the stone walkway below.
Now, here is where existing theory gets muddy: some believe that Petra did indeed die during this fall. Multiple news sources at the time printed that the girl "could not live."
…but she did.
Suffering a broken arm and head contusions, Petra lay in St. Elizabeth's hospital while the funeral of her brother took place in the family home. When she was well enough, she was subsequently institutionalized at Bellevue Sanitarium in Batavia, IL. Coincidentally, Bellevue is the same place Mary Todd Lincoln was committed after the assassination of Abraham Lincoln. Given Mr. Lincoln's deep ties to Belleville, it's no surprise why Bellevue was chosen by the Romeiser family as a place for Petra to stay.

She remained at Bellevue for almost two years, attempting suicide again and again… even being diagnosed as suffering from 'Suicide Mania'. On her final- successful- attempt in November 1908 (almost two years to the day after her brother died), Petra convinced her caretaker to go for a walk. Breaking from their normal route, Petra purposefully led them across town towards train tracks. At just the right moment, Petra stepped in front of a train, was said to have looked at her caretaker "with a smile of satisfaction," and was killed instantly at the age of 25. Jacks were needed to lift the train from its tracks in order to "remove the mangled form."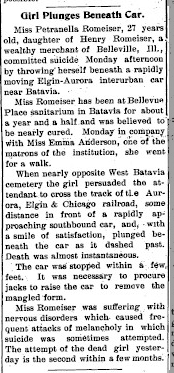 Her father traveled to Batavia to retrieve the remains and a service was held in Chicago.

These sad deaths of just two of the Romeiser children no doubt contribute to the legends and lore that surround the Brick and Maple.
Do the spirits of Roland and Petra still visit their childhood home? Two other deaths (that we know of!) occurred in the house, several funerals were held here in the formal living space, and a third tragic death surrounds another Romeiser child that connects the house to a MAJOR 20th century historical event… so the potential for paranormal activity, if it's real, could surely exist.
What do you think– are ghosts real? Comment with your thoughts and experiences below… if you dare!